Fantasic Adventure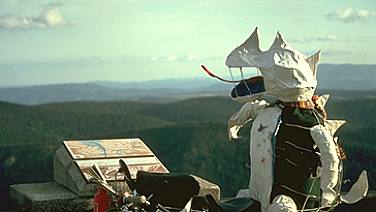 The "Fantasic Adventure" was made up of two happenings. The first one was called
"Demonstration for Imagination"




Artberg travelled through the French Alps on his small, 25 year old moped with a mythical dragon as his passenger. The journey was quite difficult. When travelling just through the valley of Engadin, he had to repair five punctures, mainly caused by the heavy load.
On the Col-di-Tenda pass, at an altitude of 2000 metres, he was faced with 30 cm of powder snow and had to wait several days until the snow had melted. Artberg crossed the Alps with his dragon on lonely routes.

However, even in these isolated areas, he met many people who admired and appreciated his demonstration of imagination.

The second demonstration of imagination was called "With Angel, Devil and Me". Artberg travelled on the same old small moped, with an angel as the passenger and the Devil sitting on a chair in the trailer.

These demonstrations were a surrealistic message to mankind, protesting against today's stress and lack of imagination.