1980 - From Tyrol to Vienna by raft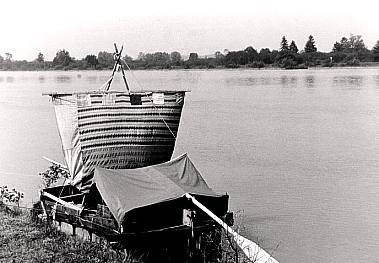 Garbage raft at anchor at one of the many locks along theRiver Inn
A demonstration of the "direct recycling" of both imagination and lifestyle instead of using sophisticated recycling factories.
"Art is life and live it consciously!"





Participants:

Reinhard Artberg
Alois Grießenböck
Heidi Kofler
Maria Zeggl

Duration: 6 weeks



The journey by this raft was adventurous and tiring and one of Artberg's greatest memories.

During these 6 weeks, 4 of the10 barrels were lost when hitting rocks. All the rivers had extremely high water levels and in rapids, waves of 2 metres high were experienced.

During the journey the raft was supplemented with "garbage" found along the way. The adventurers experienced great difficulties passing 16 locks along the River Inn. Each time the raft had to be pulled out of the water and carried up to 1 km on land before being put back into the water. Most of the time the raft had to be dismantelled to do this.