New-Zealand 1998/99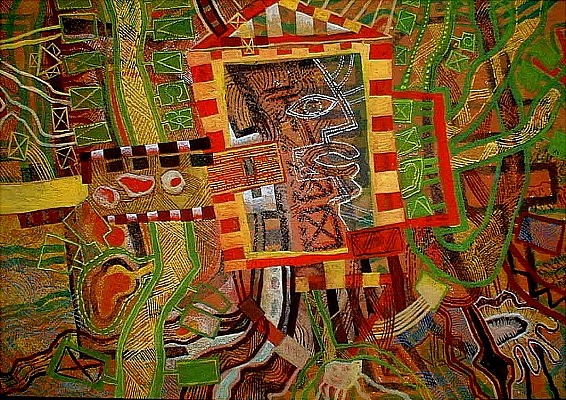 "Bushcamp", 100x70cm, Neuseeland 1999
At this jouney Reinhard Artberg spends several months in New Zealand in a primitive camp on the edge of the jungle.
The works created here combine the reduced graphics of the "Icons" with cultural influences from the South Pacific.

"Reinhard Artberg am Urwaldcamp"


"Doppelwesen", 100x200cm, NZ99

His friend Friedensreich Hundertwasser visited Artberg at the camp whenever he could.
The two artists spent many hours talking, drinking coffee and getting bitten by Sandflies at Artberg's jungle camp or at the nearby anchored sketch "Regentag".
It was the most intensive and last personal contact of Artberg with his longtime friend Hundertwasser, who died so unexpectedly a year later.


"Friendensreich Hundertwasser on the way to the camp" (Foto: Artberg 99)

With his catamaran, Artberg had to survive some cyclones, which were especially frequent at this time.
By the failure of all entrained electronic devices - and the hard drive of his laptop, Artberg lost a large part of the taken pictures and a part of the diary entries.
A serious illness of his mother ended the stay and had to be abruptly stopped in February.
It was a journey that caused many difficulties for Artberg from the outside and thus foiled his intention to live in a hollow tree in the jungle for a while.