"Trojan Horse or Manipulation Machine 85"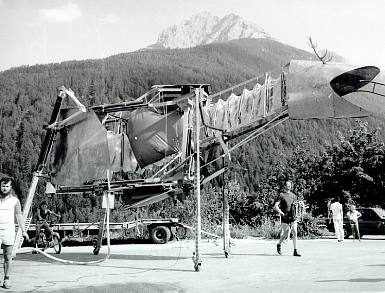 This was Artberg's most extravagant project involving great expense. Despite it's size the "horse" was fully mobile, able to get up and move forward by expanding and contracting the body. The 12 metre long and 6.5 metre high steel monster had a weight of 1200 kg. It was powered by diesel and pressurised air cylinders and was operated by remote control. It took more than 2000 man hours to build it.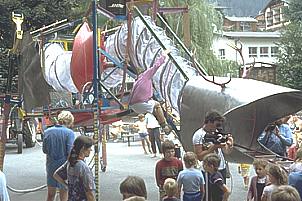 The project was constructed by Artberg for a Children`s Festival in Fulpmes (Tyrol). He founded the object Realisation Team "REFLEX".
Members were: Reinhard Artberg, Brigitte Ohlrogge, Heinz Peter Stoessel, Alois Schild.
It was a critical contribution to the Children's festival and performed several times in the production of Brigitte Ohlrogge. The colourful children were "swallowed" by the monster and were then manipulated as they walked through the transparent intestines, leaving the object through the anas as grey uniformed creatures.
These Actions were accompanied by the impressive experimental music specially composed by Charly Maier (Klagenfurt).